How to configure Door Zone Code?
| | | |
| --- | --- | --- |
| Author: Microengine Views: 7186 Created: 17-10-2016 11:17 AM | 0 Rating/ Voters | |
This article contains steps to configure Door Zone Code. Door Zone Code must be configured when using AntiPassback feature.
Applies To:
XP-M1000i
XP-M2000i
xPortal2005
xPortal2007

xPortalNet v1.5

xPortal3000

Resolution Summary
Door Zone Code can be found from the xPortalNet Client software. There are 2 Door Zone Code which are Entry Zone Code and Exit Zone Code. Both Zone Code cannot be same in order to enable the AntiPassback feature.

Resolution
Refer to the following example for different site condition. User may follow any setting which applicable.


Criteria
:

1 unit of XP-M2000i
Door 1 with Entry & Exit

Door 2 with Entry & Exit

Routing Rules
Door Zone Code
Routing


Route 1: D1 › D2
Route 2: D2 › D1

Routing Rules

User can enter through D1 and D2.
User can exit through D1 and D2.

D1 -
Entry Zone Code: 1
Exit Zone Code: 2

D2 -
Entry Zone Code: 1


Exit Zone Code: 2



Criteria
:
1 unit of XP-M2000i
Door 1 with Entry & Exit

Door 2 with Entry & Exit

Routing Rules
Door Zone Code
Routing


Route 1: D1 Entry › D1 Exit
Route 2: D1 Entry › D2 Entry › D2 Exit › D1 Exit

Routing Rules

User can enter through D1 and exit D1.
User can enter D1 then D2 and exit D2 then only can exit D1.

D1 -
Entry Zone Code: 1
Exit Zone Code: 2

D2 -
Entry Zone Code: 2


Exit Zone Code: 3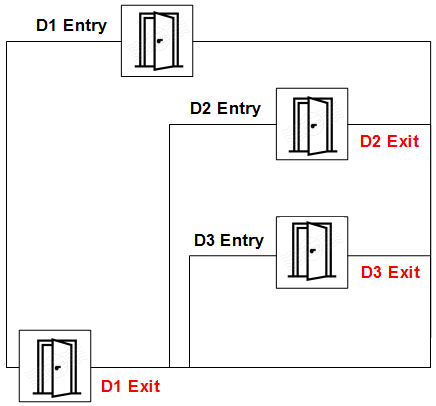 Criteria
:
2 units of XP-M2000i
Door 1 with Entry & Exit

Door 2 with Entry & Exit

Door 3 with Entry & Exit

Routing Rules
Door Zone Code
Routing


Route 1: D1 Entry › D2 Entry › D3 Entry › D3 Exit › D2 Exit › D1 Exit
Route 2: D1 Entry › D2 Entry › D2 Exit › D1 Exit
Route 3: D1 Entry › D1 Exit

Routing Rules

User can enter D1 then D2 then D3 and exit D3, then exit D2 and only can exit D1.
User cannot enter D2 or D3 if they didn't enter D1.
User cannot exit D1 if has been enter D2 or D3 without exit D2 and D3 before proceed to exit D1.

D1 -
Entry Zone Code: 1
Exit Zone Code: 2

D2 -
Entry Zone Code: 2
Exit Zone Code: 3

D3 -
Entry Zone Code: 3


Exit Zone Code: 4
Criteria
:
2 units of XP-M2000i
4 Doors (6 Reader)
Controller 1: C1 D1 Entry, C1 D1 Exit, C1 D2 Entry

Controller 2: C2 D3 Entry, C2 D3 Exit, C2 D4 Exit
Routing Rules
Door Zone Code
Routing


Route 1: C1DI Entry › C1D1 Exit
Route 2: C1D2 Entry › C1D1 Exit
Route 3: C1D1 Entry › C2D3 Entry › C2D4 Exit
Route 4: C1D1 Entry › C2D3 Entry › C2D3 Exit › C1D1 Exit
Route 5: C1D2 Entry › C2D3 Entry › C2D4 Exit
Route 6: C1D2 Entry › C2D3 Entry › C2D3 Exit › C1D1 Entry

Routing Rules

User can enter both D1/D2 Entry and exit D1 Exit.
User can enter D1/D2 Entry and D3 Entry and Exit D3 or D4.
If user didn't enter D1/D2 Entry, they cannot Enter or Exit other door.

D1 -
Entry Zone Code: 1
Exit Zone Code: 2

D2 -
Entry Zone Code: 1
Exit Zone Code: 2

D3 -
Entry Zone Code: 2
Exit Zone Code: 3

D4 -
Entry Zone Code: 1


Exit Zone Code: 3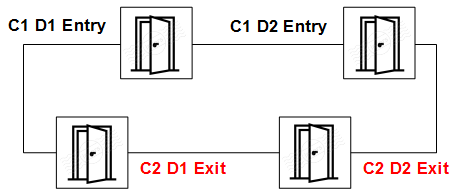 Criteria
:
2 units of XP-M2000i
2 doors
Controller 1: C1 D1 Entry, C1 D2 Entry

Controller 2: C2 D1 Exit, C2 D2 Exit
Routing Rules
Door Zone Code
Routing


Route 1: C1D1 Entry › C2D1 Exit
Route 2: C1D2 Entry › C2D1 Exit
Route 3: C1D1 Entry › C2D2 Exit
Route 4: C1D2 Entry › C2D2 Exit

Routing Rules

User can enter both D1/D2 Entry and exit both D1/D2 Exit.



D1 -
Entry Zone Code: 1
Exit Zone Code: 2

D2 -
Entry Zone Code: 1


Exit Zone Code: 2
Summary: This article contains steps to configure Door Zone Code. Door Zone Code must be configured when using AntiPassback feature.
Search Tags: door zone code, door, zone, code, entry zone code, entry, zone, code, exit zone code, exit, zone, code, antipassback, anti passback, anti pass back
Submit Feedback on this Article