How to reset the M1000x controller to factory default setting? (Coldstart)
| | | |
| --- | --- | --- |
| Author: Microengine Views: 19375 Created: 13-02-2015 09:34 AM | 0 Rating/ Voters | |
This article contains steps to reset (Coldstart) the XP-M1000x controller to default setting.
Applies To:
XP-M1000x, XP-M1000ABX, XP-M1300X, XP-M1300ABX, XP-M1000XE, XP-M1000CPX

Resolution Summary
This article contains steps to reset the controller settings to default. If user forget the Master PIN which is used to enter the Programming Menu, user must coldstart the controller to obtain the Default Master PIN.

Coldstart is a process that will erase all the memory in the XP-M1000x and reset all the settings to default. User only needs to do a Coldstart once for new installation unless advised to do so.

Resolution
Warning! Coldstart will erase all the memory in the XP-M1000X and reset all the settings to default.
To perform a
Coldstart
, please follow the steps below:
Turn ON the power supply. The screen below will be shown and the Red LED will be blinking for 10 seconds.

During this 10 seconds period, press and hold the Coldstart button at the back of the reader for approximately 2 seconds until the screen displays messages as below.


When you see the screen as above, the XP-M1000x will sound a long beep.

Wait until the

Coldstart

process finished and it will enter

Idle Mode.



Please observe the LCD display. The screen will displays messages as below when enter Idle Mode after power reset or cold start is completed.


Idle Mode: The XP-M1000X will give audio and visual indication to users in different circumstances. Table below shows normal response in Idle Mode.


LCD Display
Normal Response
Indicate time, date and day in
'HH:MM MM/DD DAY'

format.




Backlight is OFF.

Red LED: OFF
Blue LED: OFF
Buzzer: OFF
After coldstart completed, please
check the
Mode
jumper is
open
which will turn on the controller mode. Then the XP-M1000x unit only allow to enter to the
Programming Menu.
Refer Figure 1 below:

If the Mode jumper is already open, you can skip this step and enter to the Programming Menu.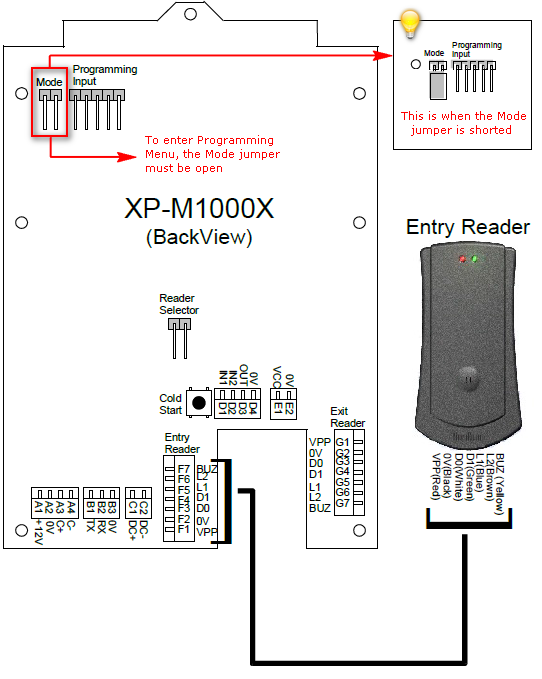 Figure 1
Summary: This article contains steps to reset (Coldstart) the XP-M1000x controller to default setting.
Search Tags: coldstart, xp-m1000x, reset to default setting, clear all records, default master pin
Submit Feedback on this Article